Convert audio and video faster than ever before with Media Buddy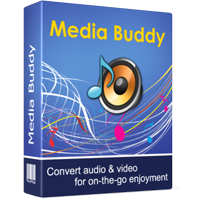 Lightning-speed conversions - this is what it's all about! Thanks to a very efficient hardware resources management system and GPU acceleration Media Buddy saves your precious time by providing faster than average conversions. Moreover, Media Buddy is a versatile tool that can convert almost any given multimedia files, be it video or audio, to a huge variety of media formats that are suitable for playback on DVD and portable players, mobile phones, gaming consoles and whatnot.

With Media Buddy's power and ease of use, you no longer need to worry that a certain video clip cannot be played back on your favorite device or platform. Media Buddy can produce incredible high-definition files for smooth viewing on Full HD TV screen as well as tiny video clips for a mobile phone or iPod.

If your files are DRM-protected, you need to use SoundTaxi.



Media Buddy supports the following devices / formats:
Apple media (iPod, iPhone, QuickTime and AppleTV),


Popular video formats (DivX AVI, MP4, Windows Media, Flash Video),


Popular audio formats (MP3, OGG, AC3, FLAC, WAV etc.),

Portable players and consoles (Zune, PSP, Archos),


HD gaming consoles (XBOX360, PlayStation3, Wii),

Mobile and smart phones (3GP, MP4 mobile, RealMedia, Windows Media mobile),


Other popular devies (Creative Zen, iRiver, Cowon)
very easy to use and install
converts songs and videos for usage with any mp3 player, phone or other portable device
supports just about any imput audio and video files format
natively supports countless devices - iPod, iPhone, Zune, PSP, Archos, XBOX360, PlayStation3, Wii, Creative Zen, iRiver, Cowon and others
convert to many many popular formats including - DivX AVI, MP4, Windows Media, Flash Video, (MP3, OGG, AC3, FLAC, WAV, etc
converts practically all audio and video files
easily handles large music and movie collections
tweakable settings to get the conversion done just the way you want
many conversion profiles for portable devices avialble
fast conversion, your entire media library will be converted in no time
converts in best possible quality your device can handle
Enjoy music and videos on your portable device anywhere. With a program like Media Buddy it's easier than ever.
Keywords

convert WMA to MP3,
music converter,
convert video,
iPod converter,
CD quality audio converter
convert audio,
free CD ripper,
convert music,
convert audio to WAV,
convert audio in batch mode